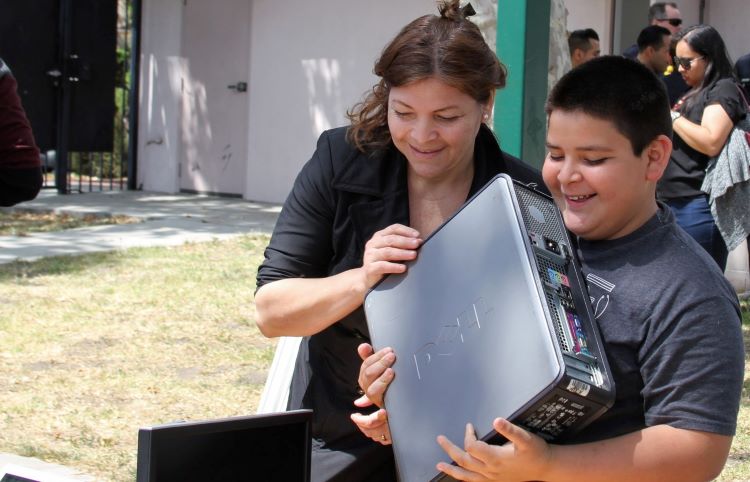 Integritechs and human-I-T are at it again! For Earth Day, we would like to bring attention to their cause of not only recycling technology but providing a new purpose for those devices to end users lacking access to technology. 
With the COVID-19 pandemic affecting all of our day-to-day lives, technology has been a vital part in how we live. Technology connects the world in ways that we could never imagine and advances faster than we could ever think it could. Zoom calls can connect you to people whenever and wherever across the Earth to help you continuously be productive. Smart phones allows us to have the internet in our own hands. Electric vehicles is one of the many steps to help reduce the carbon footprint on our planet.
Of course, advanced technology comes with a price tag. What happens when someone does not have the capability to continue their school online during a pandemic? With a world advancing so quick in technology, it is important that those in need are not left with nothing.
human-I-T's mission is to lead the charge to closing the digital divide by giving those in need of electronics. Your repurposed devices provides new digital learning opportunities and technology information to recipients so that they can have the same ability to access it. Through their programs, they are able to provide those in need with internet access to online essentials such as school assignments, job opportunities, free online learning courses, and other local programs of value.
This is Integritechs second collaboration with human-I-T and we gladly support their mission to help those have technology access within our community. Old computers or devices contain toxic and hazardous material if not disposed of properly. It can significantly damage the quality of where we live if they are being tossed in a landfill. Recycling old tech to repurpose to those who are in need demonstrates full support for environmental protection.
If you have any computers, monitors, or electronic devices that you are looking to get rid of this Spring, we are offering free recycling to qualified customers in an effort to go green. If you have 5 items or more, we will pick them up on our next service call at no cost. Please let us know in advance, including a list of the items for recycling, so we can plan accordingly.
We have all heard the jingle to Reduce, Reuse, and Recycle and we believe everyone has the opportunity to fulfill that objective. 
Happy Earth Day!