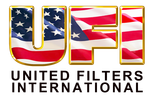 Integritechs proudly collaborates with United Filters International with a long lasting relationship of friendly service and hard work. We have provided them with their ongoing technology needs keeping them at their top level of efficiency and in a cyber secure environment. Some of those technology needs includes a full network replacement that provides 5G LTE failover at one of their locations where Ethernet connection fluctuated. They also received a brand new PC Refresh with Dell Micro Machines that improved speed and efficiency.
United Filters International (UFI) has been serving the filtration needs of homes and a variety of industries, including the Gas and Petrochemical Industry. UFI prides itself on its ability to offer simple cost effective solutions to complex problems. Their consumer and commercial grade filtration products are manufactured using man-made and natural fibers, stainless and mild steels, and other materials from plastics to carbon.
One of their newest products serves consumers in the household just like yourself with a filtration system for your entire house. The new United Filters' Trident Three-Stage, Point-of-Entry Whole House Water Filtration System, built from their Ultra-D Submicron Depth Filtration series. These filters are capable of removing submicron pathogens and inorganic contaminants through electro-adhesion and ion exchange. This technology makes it possible for a nonwoven media to produce filtration efficiency comparable to ultra membrane filtration but at very low pressure drop, with high flow rates and high loading capacity working equally well in fresh, brackish or salt waters. This system is a cost effective alternative to higher priced water treatment such as reverse osmosis and systems with UV lights, and gives the user great tasting clean healthy water for drinking, cooking and washing produce.
The Trident Three-Stage Water Filtration System is a cost-effective combination for reducing many contaminants:
Stage 1 - filter options include: string or pleated, 5-micron pre-filter for reduction of dirt, rust, sediment. 
Stage 2 - Ultra-D PAC/Agion submicron filter for reduction of viruses, bacteria, cysts, chlorine, heavy metals, VOCs. 
Stage 3 - carbon filter options include: GAC, pleated, wraps or radial flow for reduction of chlorine, bad taste and odor, VOCs, inorganics. 
The ULTRA-D filter reduces or removes 99.99% viruses (polio, rotovirus, norovirus, etc.), 99.99% bacteria (e coli, legionella, pseudomonas, etc.), and 99.95% cysts (giardia, cryptosporidium, etc.) The filter removes 95% Lead, 80% Ferrous Iron, 95% Arsenic V, 95% Cadmium, and other metals. 
Visit them at www.unitedfilters.com and under their products menu, visit their Inline Water Filtration Systems for more information.